As far as road trips go there are few as spectacular as the journey from Cairns Queensland to Cooktown on the Cape York Peninsula.  We chose to journey past the white sandy, palm lined beaches of the Cook Highway before diverting through rainforest to Mount Molloy and joining the Mulligan Highway until our destination.  The road was sealed for its entirety and the journey took us four hours.
The scenery as we traversed the "bread-basket" of the tropics near Mount Molloy was extraordinary.   This was tropical agriculture at its most varied.   Banana plantations, a lychee farm and a barramundi farm were among those we passed.  As the geography became more rugged we dodged cattle and spotted wildlife.  At last count we saw dingoes, kangaroos and brumbies (wild horses), but no crocodiles on our trip.
There are a number of accommodation options along the highway that allow for flexibility if small children are not tolerating the drive and although we didn't need them, it was reassuring to know they were there.
Cooktown was discovered by Captain James Cook in 1770 when his ship the HMS Endeavor hit a reef.  It has a rich history incorporating Aboriginal, European and Chinese elements, all of which may be experienced through a range of tour options and by visiting the James Cook museum (although the museum is best experience with primary aged children).
Our escape to Cooktown was spontaneous so we undertook the round trip in two days.  I would love to have stayed in Cooktown longer though as we were delighted by the historic township.
For those that like us are visiting Cooktown with small children the highlights are:
A visit to Natures-Powerhouse, an interpretive visitor centre located in the impressive botanic gardens.
Visiting the lighthouse and viewing the township from Grassy Hill.
Experiencing the very special musical ship located on the water-front in town.  The entire ship is an instrument for young musicians to play and a unique outdoor experience for kids.
We overnighted at the charming Hillcrest Guesthouse, an immaculate 1880s Queenslander.  Our family of four was particularly comfortable in our family room and the tropical gardens and pool were perfect for small children.  They serve up a gorgeous continental breakfast.
I'm loving the thought of another road trip to Cooktown, perhaps during the Cooktown Discovery Festival during June that includes a reenactment of Captain Cooks landing, Aboriginal dancing and fireworks.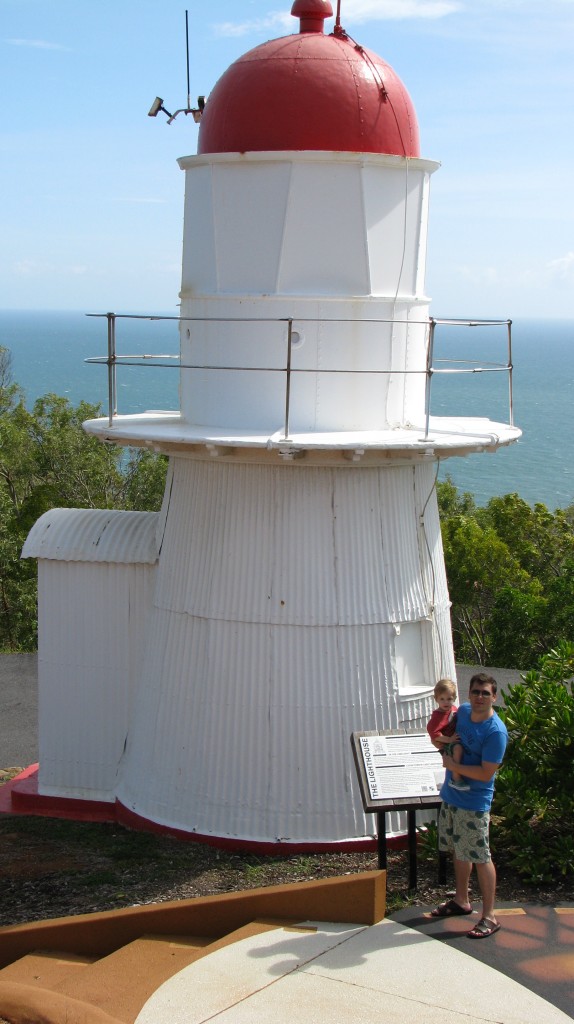 Don't forget to alway put safety first during road trips – and carry plenty of water.  Please join us on Facebook if you would like to hear more about discovering North Queensland with small children.
This post is linked to Delicious Baby's Photo Friday and Are We There Yet Mom?'s Friday Daydreamin.
&copy Copyright 2013
Danielle
, All rights Reserved. Written For:
Bubs on the Move