I am raising three city kids.  We live in the suburbs and our weeks are full of school and work and after-school activities.  My kids love arcades, and theme parks and I am constantly battling screen time.  What I don't want is to raise three exclusively city kids.  There is mounting evidence for the health benefits of time in nature and I desire for my family that they love the outdoors.  I also desire for them to have an appreciation of rural lifestyles and landscapes which I hope will stay with them life-long.  Sometimes enticing my city children to the country isn't easy so I have come up with a list – of activities that will foster an appreciation for country lifestyles and nature – some of these activities don't even require us leaving our home city.  The plan – to do each of these activities at least once (and hopefully more) every calendar year.  I'm hoping the list will inspire some of your own city kid – country adventures.
Hiking
Most Australian cities are within a short jaunt of easy family hikes.  We frequently head to the Yarra Valley and the Warrandyte State Forrest for family hikes beside the Yarra River, where wildlife abounds.  Family hikes don't have to be long to be enjoyable or meaningful.   Nobody enjoys dragging a reluctant kid along for kilometres at a time so pick hikes that are a a reasonable difficulty and distance for the age of your own children.
Canoeing
My personal favourite,  in the last year we've canoed at a summer family camp in the Yarra Valley and the Kids Adventure Outdoors Festival on the Great Ocean Road.  Getting out on the water together is awesome.
Visiting a farm stay
Farm stays are terrific opportunities to meet rural families and get a peak into the rural lifestyle.  Kids love collecting eggs, feeding the animals, and adults love tasting local produce.
For some farm stay inspiration check out our experiences at Eden Farm Stay in Tasmania's Huon Valley.
Visiting an Agricultural Show
Agricultural shows combine wild rides that cater to my adrenaline seeking 9 year olds needs, as well as showcasing rural produce, food, handicrafts and animals.  Admittedly I have to do some cajoling to entice my kids away from the rides but usually the promise of a show bag or two suffices.
Snow play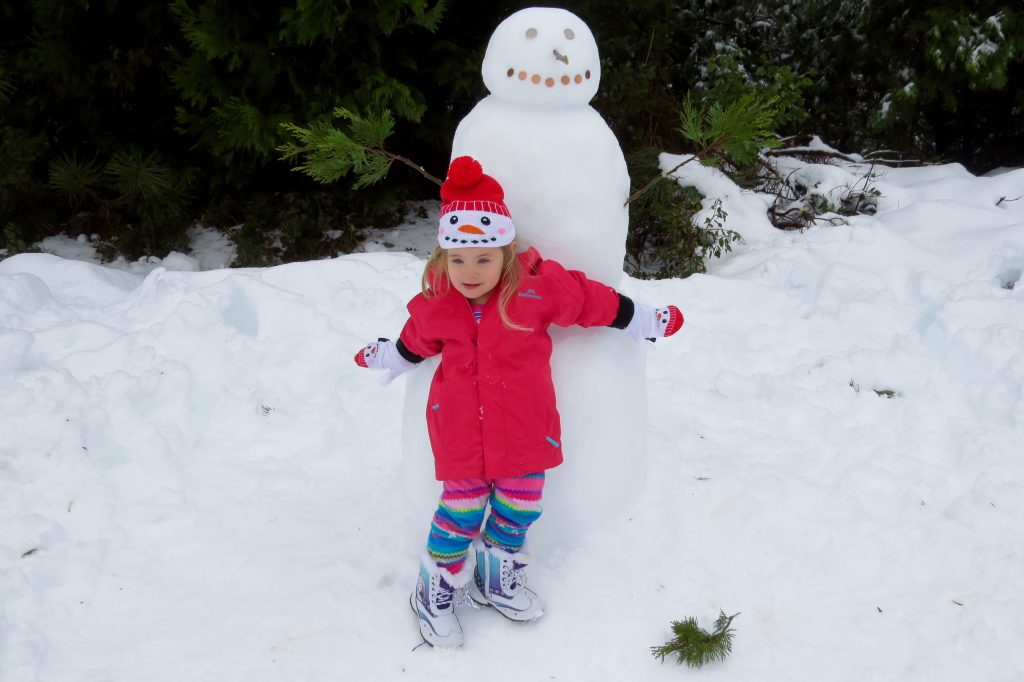 The sensory experience of snow play, and for older children skiing or snowboarding is magical.  We've chosen to take the kids on day trips to the snow fields near Melbourne as well as been fortunate enough to have overseas snow holidays.  Do ensure you dress children appropriately for the snow.  For tips about vacationing in the snow with kids check out this article.
Rockpool rambles
I know I said canoeing was my favourite activity but rock pool rambles, with their natural ecosystems, water for dipping little toes in, and fish to find are so much fun.  There are rock pools near most major Australian cities such including Melbourne's bayside beaches.
Abseiling
I am a big fan of indoor rock-climbing venues but there is nothing like the real deal.  Children as young as four can abseil with a certified climbing guide.  Our own experiences have been in Victoria's Grampian Ranges.
Getting close to some native wildlife
Meeting and greeting the local wildlife is important.  This is one of the activities that doesn't necessitate leaving the city as our zoos and wildlife parks provide wonderful opportunities to nurture understanding of our wildlife.
Swimming in the ocean
As far as I'm concerned the ocean is nature encroaching right up to our city limits.  While I'm an advocate for exploring our regional beaches visiting the city beaches facilitates a healthy respect for nature too.
Camping
If I'm honest I must admit that I default camping experiences to my husband who takes the kids out bush for overnight adventures.  In the next twelve months I'd better join them…
&copy Copyright 2017
Danielle
, All rights Reserved. Written For:
Bubs on the Move