Erika Jonsson is a Melbourne writer and mother of two boys. She shares her favourite places to take them with Bubs On The Move.
Iceland, or the land of ice and fire, is a destination made for families. For most people, it isn't quick to reach, nor is it the place to go for a cheap holiday, but Iceland is truly unforgettable for adults and kids alike.
There are volcanoes, glaciers, waterfalls, thermal springs – and in summer, there are puffins, surely the cutest birds in the world. (Puffins also feature on the menus of some restaurants, along with fermented shark and other "delicacies".)
Tours are a great option for families, particularly in winter when road conditions can range from difficult to treacherous. The weather is famously unpredictable so it can be easier on the nerves to have an expert in the driver's seat. There is an impressive array of tour companies, many with similar offerings, and a lot of them do not charge for children under 12; others offer a 50 per cent discount from children aged six and older. Children's seats can be reserved free of charge. Depending on the age of your children and the tours you choose, these factors can make touring reasonably competitive with car hire.
Golden Circle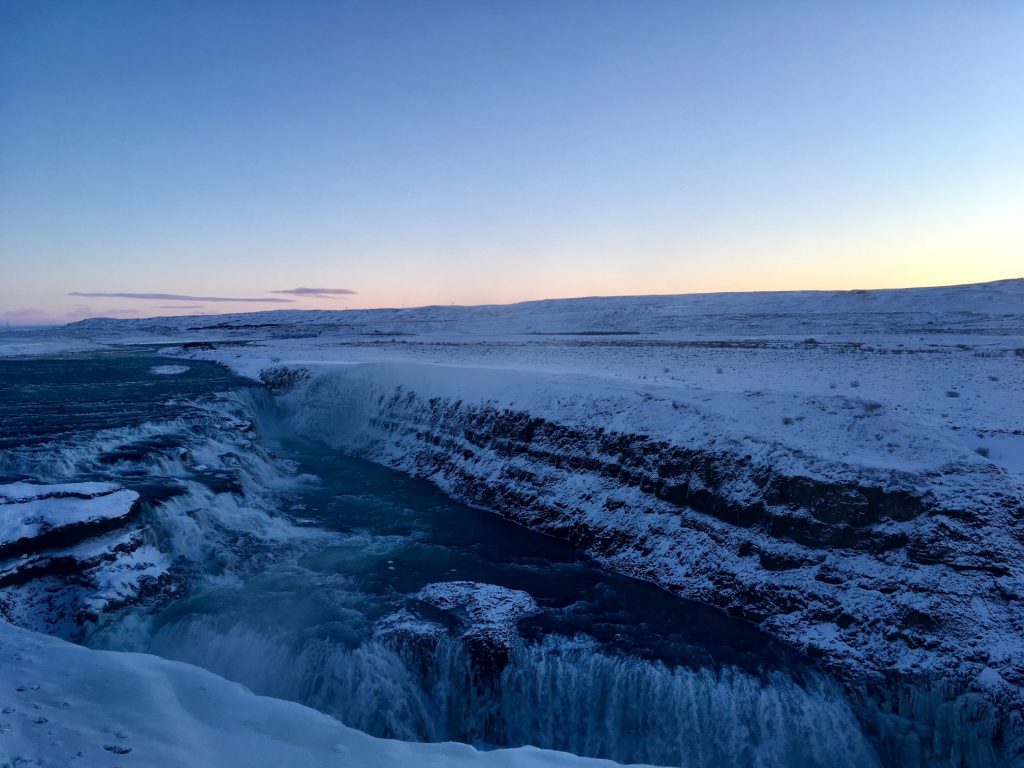 The most renowned tour from Reykjavik is the Golden Circle, which is a ring road circuit that takes in impressive locations such as Geysir (after which geysers took their name) and its active cousin Strokkur, Thingvellir National Park, and Gullfoss. Our Iceland Travel guide, Halle, was an absolute delight, sharing a deep knowledge and love of his country as well as some dad jokes that were much appreciated by his audience. Halle was especially mindful of his youngest passengers, giving them high fives and offering us extra tips if needed.
The Geysir geothermal area is a sulphury, bubbling wonder, and Strokkur – the most active geyser in the area – erupts every few minutes, spouting a huge plume of hot water high into the air every few minutes. Keep a close eye on your kids in this area as the streams are tempting to touch but are extremely hot – up to 100 degrees Celsius. (Another great reason to have a guided tour – the guides are excellent at reinforcing any safety requirements with a gravity parents can find hard to mimic.)
Gullfoss is Europe's most powerful waterfall – it's not the biggest, nor the longest drop, but as thousands upon thousands of litres of water thunder down its icy reaches it's easy to understand the distinction. In winter the high humidity can make the temperature far lower than it seems, so consider tag-teaming if possible if you are travelling with very small children. This was one of the few places that I ever felt dangerously cold – my core temperature was fine but my gloves weren't thick enough to stop my fingers from feeling painfully numb after just a few minutes. If you're planning on using your phone as a camera, make sure you have touch-sensitive gloves or you'll risk frostbite in winter. Warm up with a bowl of soup in the café – refills are free, making it the best value option.
Thingvellir National Park is hard to go past as the stand-out of a spectacular day. The site of Europe's first parliament, Thingvellir is also the meeting place for the North American and Eurasian tectonic plates. The canyon that runs through the park is a rift that is widening at an astonishing two centimetres a year as the country literally tries to tear itself apart. Thingvellir will fascinate children who have started school or have an interest in volcanoes and earthquakes.
South Coast 
If you've decided to make Reykjavik your base, rather than circling the whole of Iceland, there are plenty of other locations within reach. We decided on a day trip with Gateway to Iceland to the South Coast, including Seljalandsfoss and Skogafoss waterfalls, Solheimajokull glacier, Reynisfjara shore and black beach, with a stop-off at a geothermal power plant that was highly informative and of great interest to our six-year-old. In summer this trip also visits Dyrholaey, a puffin-spotting paradise.
The waterfalls were both impressive (though not as jaw-dropping as Gullfoss) and it's possible to walk behind Seljalandsfoss if you don't mind getting soaked. In winter this isn't recommended for families as footing can obviously be pretty slippery.
Reynisfjara has gained fame as a location for Game of Thrones, and it is magnificent. The black volcanic beach is treacherous and beautiful – don't turn your back on the water as the waves are unpredictable. From black sand to perfectly turned black stones and towering columns and caves, Reynisfjara was utterly magical.
Solheimajokull was also magnificent. How many kids will be able to look back at photos of themselves laughing at stomping in puddles on the tongue of a glacier? More than any other time, it was here that I felt incredibly humble at the chances my kids have to experience and learn about our amazing world.
GT Ice charges 50 per cent of the full rate for children aged 6-14, while children aged up to six are free. While we could have chosen a trip that offered free admission for both our children, we chose GT Ice because the maximum number of passengers is 19 – on our day trip there were around 10 people – making it much quicker and easier to get on and off the bus for multiple stops. I would highly recommend GT Ice for family travel.
Northern Lights
If you travel to Iceland any time from around late August through to about March, you'll probably want to try chasing the Aurora Borealis. Better known as the Northern Lights, the Aurora occurs when radiation from the sun bounces off Earth's atmosphere. The phenomenon occurs year-round but is only visible when it's dark. It's unpredictable and thus can be a bit frustrating for tourists of any age!
We headed out with our two children, aged 6 and 2, on a coach tour that began at 7 and didn't drop us off until almost midnight. The kids fell asleep within the first half hour and we didn't wake them at either of the attempted viewing locations, which are by necessity a long drive from Reykjavik. Many tours, ours included, offer visitors the chance to rebook free for a second attempt if they don't see the lights, but in the end we decided not to take the kids out again as conditions were still overcast on the nights we could have tried. This activity is perhaps better suited for teenagers, but our kids certainly didn't suffer on the warm bus, so consider your own children's temperament when you decide whether to go aurora-chasing.
Reykjavik 
Reykjavik is a pretty compact city and if you are staying in the town centre you'll probably be able to do a lot of your touring on foot. Some of the highlights include:
· Hallgrimskirkja, a magnificent church with stunning views of Reykjavik and its coast. Get tickets at the office downstairs before going up the lift.
· Harpa, Reykjavik's performing arts centre, and the waterfront.
· Local baths – each swimming pool is different, with some sporting huge areas for kids.
And of course, just outside Reykjavik on the way to the airport is the amazing Blue Lagoon. Children get in free and this was one of the highlights of the whole week for both my sons. The water is almost supernaturally blue  in the cooler months – apparently in summer it's a deeper, greener colour.
Iceland is a country of friendly people, great food, breathtaking scenery and so much more. If you get the chance to visit, whether it's in winter or summer, don't hesitate. You'll fall in love. And so will your children.
Visit GT Ice and Iceland Travel for more about these tours.
&copy Copyright 2017
Danielle
, All rights Reserved. Written For:
Bubs on the Move