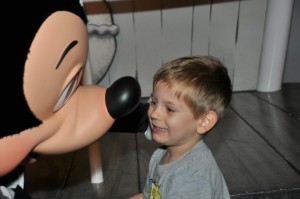 When I told people that we were planning on traveling from Cairns Australia to California Disneyland for 8 days with our two small boys people were skeptical.  Surely such a quick trip was not worth the long flight and jet lag that would inevitably ensue.  Dealing with jet-lagged toddlers can be notoriously difficult.  My husband David, when I initially broached the idea of combining a medical workshop with a family trip to the "Happiest Place on Earth" also required convincing.  Pre-children travels had involved either a dose of history, wilderness or cosmopolitan culture.  A vacation entirely situated at a theme park did not sit easily with him.  I on the other hand fondly remember a family visit to Disneyland when I was three as a time filled with magic and wonder.  My three-year-old son wants to marry every Disney princess, and the opportunity to revisit my own childhood through his eyes was appealing.   I eventually convinced my reticent husband to come on board.
Admittedly, there was the potential that this vacation would turn all of us into sleep deprived, jet lagged zombies.  In order to arrive at our destination we needed to first travel to Brisbane, where we overnighted, and then board a 13 hour Qantas flight to Los Angeles.  Neither of my three year old or 18 month old sons slept a wink on the plane, although they behaved well.   When we arrived at our Anaheim hotel our pre-arranged early check-in was declined and we had to spend a further 4 hours waiting in the hotel lobby before they made our room available to us.  By this time all was not well with the family and I truly doubted my wisdom in undertaking this journey.   After a thee hour nap the children awoke at 5 pm Los Angeles time.  It was then that David and I decided how we would run this vacation.  We would keep the children jet lagged, on Australian time for the duration of the vacation.   By using the 7 hour time difference our boys who are normally in bed by 7.30 would be able to stay up past midnight, the time Disneyland shuts every night.
We purchased a six day park-hopper ticket – allowing us access to Disneyland, and the newer Disney California Adventure Park.  The boys woke each day at 11am.  After a brunch we would head to the park in the afternoon.  It was important to ensure the boys received adequate sunlight, which they did.  Visiting during the day was also important for the boys to meet characters, which they loved and which don't occur in the evening.   The afternoon parades were also a highlight that we didn't want them to miss.  The catch during the day was that the lines were pretty awful both for the character experiences and rides; I had made the mistake of booking our trip during the US spring break.
After an early evening nap we would head out for dinner and spend another 3 or four hours at either park.  What a difference this made.  Like many parents of small children we rarely go out at night.  Our boys never do.  Australian theme parks close at 5 or 6 pm, so even if Australian families who may think of heading out at night to one of the parks don't have the opportunity to.  The bright lights, entertainment and nightly fireworks were a treat, not just for our boys but for us as well.   As a bonus the lines to all the rides, but particularly those for children thinned out majestically.  On one occasion we were allowed to remain on the Pinocchio ride for three rotations.  This ride had an hour long wait during the day.  With less small children around the park at night our boys received extra attention from guests and staff, which added to their excitement and fun.   After the park closed we would take them to an all night diner for "supper", and they would then go to sleep exhausted but happy.  The only downside to our nocturnal Disneyland holiday was that, as I mentioned at the beginning I was also in California for work.  On the three days of my workshop I had to get up at 7 am, get dressed in the darkened hotel room and sneak out.  While the rest of my family slept I attended a workshop, and would then meet them at the park in the early afternoon.  Exhausting for me no doubt.  As a result of all this, our boys did not decompensate while they waited for our home flight that did not leave until midnight (which I am sure they would have done if we had set them to US time).  They also weren't jetlagged when we returned home and were able to slide straight back into home life with no tears or tantrums.  I will possibly post at a later date about Disneyland again, with some tips for making the most of your trip.  For the moment though I just wanted to communicate that by thinking outside of the box, and not fighting the time difference a trip to Disneyland for Australian families becomes less daunting, and more magical.
&copy Copyright 2012
Danielle
, All rights Reserved. Written For:
Bubs on the Move