As a child, long before I ever met an Indigenous Australian I would ask my parents if they could take us to the William Ricketts Sanctuary.  The sanctuary consists of a serene, ferny nature reserve 45 minutes drive from Melbourne in the Dandenong Ranges.  Among the eucalypts and ferns are displayed over 90 clay sculptures depicting Aboriginal Australians of all ages.  The sculptor, William Ricketts contributed to the park from 1934 until his death in 1993 (I remember seeing him as an old man on my childhood visits) and was inspired in his art by his relationship with central Australian Aboriginal people.
Ultimately it is the merging of nature and art that makes this such a unique place to visit and I was curious to observe how my own children would interact with the park.  My youngest quickly embraced the spirit of exploration.   My eldest, perhaps a little  jaded by holiday activity was unsure at first but eventually took pleasure in discovering each new sculpture around every corner.
This is an unusual attraction for families, but it is one that works.  Rather than wild play it evoked in myself as a child, and now by boys quieter interaction with nature.  Adult visitors will be provoked to reflect on issues regarding conservation and ethnicity.  The park also acts as a talking piece that introduces children, that may never have met an Indigenous Australian to concepts concerning the first Australians and their relationship to the land.
A warning for parents – a couple of the sculptures display disturbing imagery.  One depicts a man with a gun and a pile of dead animals.  The other depicts the artist himself on a cross.  I would suggest that other parents don't let these disturbing sculptures prevent them discovering the William Ricketts Sanctuary with their own children.  My own experience was that I was able to provide a brief explanation to my kids, and then move on to another more appropriate section of the park.  For their part, my children were not bothered by these sculptures and quickly forgot them.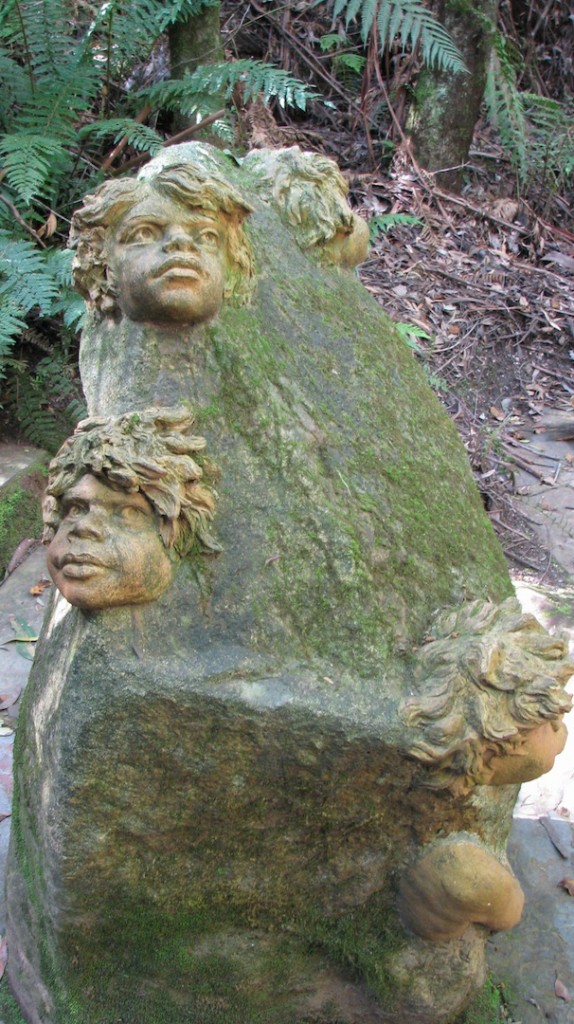 The park is located at Mt Dandenong Tourist Rd, Mt Dandenong and opens from 10am until 4.30.  Admission is free.  The Dandenong Ranges can be cool so it is important to dress your children appropriately.
Please join us on Facebook if you would like to hear about more unique attractions in Australia to visit with kids.
Check out other traveller's vacation photos at R We There Yet Mom's Friday Daydreamin and Delicious Baby's Photo Friday.
&copy Copyright 2013
Danielle
, All rights Reserved. Written For:
Bubs on the Move