Although I am not officially recognised as a local (popular opinion suggests that it takes 20 years of residency) I love flying the Cairns Queensland banner.  One of the many reasons I would hate to move from Cairns are the great opportunities for families with small children. As an added bonus many of the amazing activities we enjoy here are free.  With that in mind I have compiled a list of my top six FREE things to do in Cairns with kids.
Explore Cairns' tropical beaches. 
Okay, so I can't use the surfboard currently stored in my laundry in Cairn's warm waters.  The gentle waves of Cairns' palm fringed northern beaches are perfect for little ones just learning to swim though.  Trinity Beach and Palm Cove are my favourite nearby beaches.  Don't forget to always swim between the red and yellow flags, and to heed the advice of life-savers in regards to stingers (stinger season is October-May).
Swim in rainforest waterholes.
Visitors to Cairns don't need to drive further north to the famous Mossman Gorge to enjoy a beautiful rainforest swim.  I am giving away a locals secret but there is a beautiful freshwater swimming hole, Crystal Cascades located in the Redlynch Valley, 20 minutes from Cairns' CBD. We always take bread to feed the freshwater fish, and goggles in order to see them clearly.  Alternatively, the Babinda Boulders, located an hour south of Cairns offers a beautiful swimming spot without the crowds.
State of the art playgrounds
Muddy's playground on the Esplanade offers both big and little kids the perfect place for wet and dry play.  Water fountains and streams give the kids a chance to cool off so always pack a towel. There is even a swing for children requiring wheelchair assistance.
The new Treehouse playground on Wharf Street is better suited to children over the age of 5.
Enjoy the Esplanade Lagoon
The Cairns Esplanade Lagoon is a social hub for families in Cairns. This sandy, man-made lagoon pool offers family friendly swimming.  Better still, on the weekend there is often free entertainment and in school holidays the local council offers activity programs for children.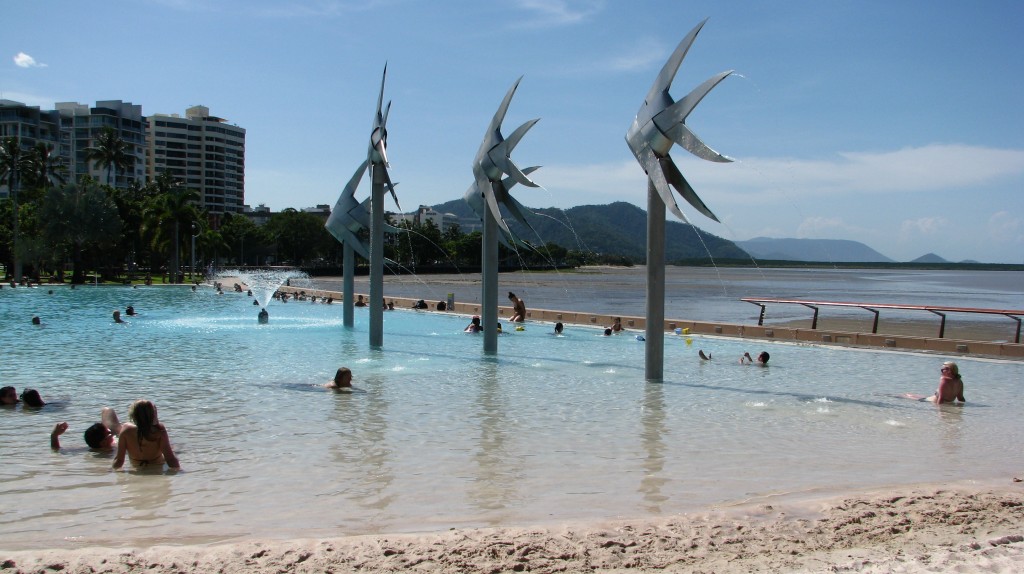 Wildlife spotting and nature boardwalks.
We regularly spot bush turkeys, lorikeets and green tree frogs on short nature walks.  The Rainforest Canopy and Barron Falls lookout walk can be accessed via the rainforest town of Kuranda.  The Jack Barnes Bicentenial Mangrove Boardwalk located just near the entrance of the Cairns International Airport introduces children to a unique ecosystem.  The Esplanade Boardwalk, in the heart of town is also a favourite with birdwatchers.
Markets
Ok,  you may spend some money at a market but the ambience and entertainment is free.  Rusty's Market on Sheridan Street is open Friday, Saturday and Sunday.  Rusty's offers fresh fruit and vegetables, with a tropical flavour, some hawker stalls and some gift stalls.  My new favourite drink, available there is minted sugarcane juice – fresh from the cane.   Expect for your children to be offered free fruit tasting at many of the stalls.
The Tanks Markets are held in the Cairns Botanic Gardens Precinct the ast Sunday of months April to November.  These beautiful markets are a great place to enjoy local musicians and view local artwork. Free art activities are also offered for children.
Have I missed any other great free activities to do in Cairns with kids?  Let others know by adding a comment.
Please join us on Facebook if you would like to hear more about discovering North Queensland with small children.
&copy Copyright 2013
Danielle
, All rights Reserved. Written For:
Bubs on the Move