As far as I'm concerned all inclusive get aways are a family win.  A great all inclusive family getaway has a few key ingredients – quality family time spent together with my kids and quality time spent having some space from my children as well.  Throw in delicious meals, somewhere comfy to sleep and one price that covers it all and I am able to put aside the stress and routine of my regular parent hustle.  All inclusive family getaways have tended to mean an overseas trip and a stay at an up market resort.  CYC's family camps, running at four different sites around Victoria have changed that.
On a long weekend in March our family escaped to Forest Edge CYC near Noojee in Victoria's Gippsland.  Situated on over a kilometre of pristine river, and immaculately maintained, Forest Edge CYC is used for most of the year by school groups, with holiday camps for kids being run during the school holidays.  The nature of the property means that accommodation is budget basic – families are lodged in bunk cabins – ours had a double bed, bunks and our own ensuite bathroom.  The facilities and food however were excellent – and with gorgeous weather and loads of outdoor activities we spent the weekend enjoying nature.
Meals at Forest Edge Family Camp were communal.  The quality of the food honestly exceeded my expectations of a family camp.  Cooked buffet breakfasts, casual lunches and home style dinners (a spit roast one night, and chicken kiev another) plus enough morning and afternoon teas and supper treats to last a week.
The highlight were the activities co-ordinated and supervised by trained adventure staff.  These included:
-A giant inflatable waterslide that ran for what seemed like miles down a hill.
-High ropes course (for high school aged kids only)
-River sledding
-A flying fox
For those wishing a quieter pace there were board games, a communal river party one afternoon  and fishing.  The exquisite nature setting is the perfect place for a quiet wander.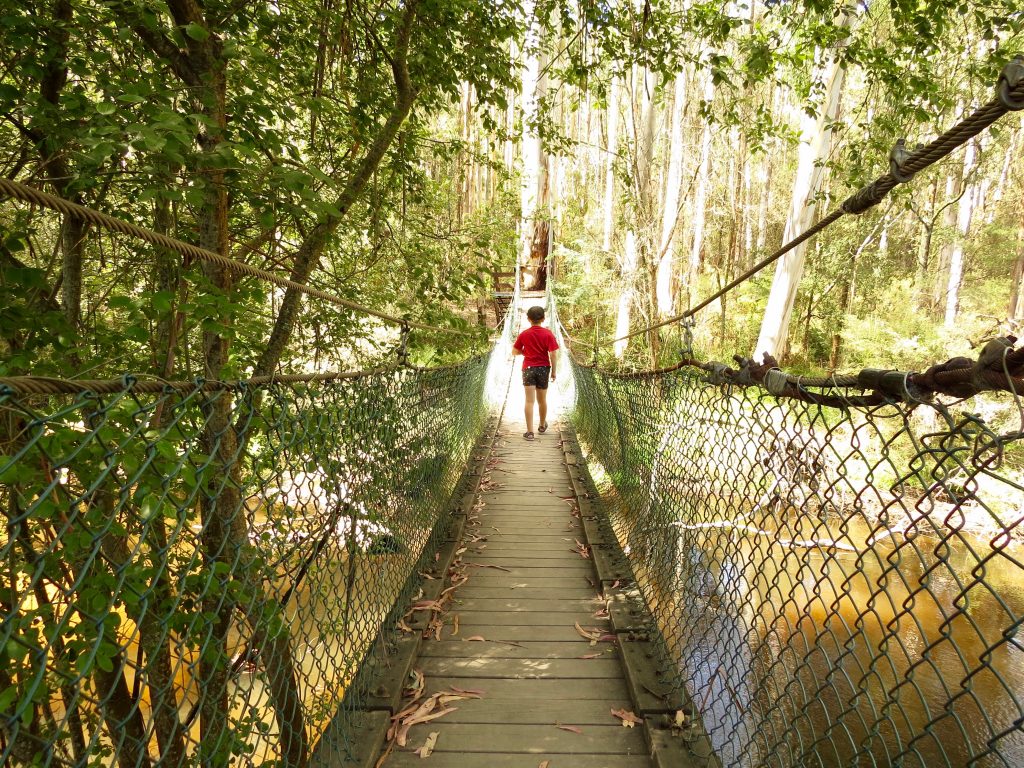 Forest Edge CYC Family camp was staffed by paid workers and volunteers.  These lovely people went above and beyond to support the parents to have time to themselves.  We had a communal adults lounge, stocked at all times with snacks, tea coffee and mini fridge full of soft drink.  A supervised movie night for the kids corresponded with gourmet cheese and nibbles being served in the adults lounge.
CYC is a Christian organisation and the kids clubs did involve Christian devotions (with the option for adults to participate in a bible study at the same time).  We are a family of faith so am comfortable in this environment.  We also however have many friends on different journeys and I would feel comfortable inviting them to Forest Edge Family Camp as long as they understood that if their kids participate in the kids club program there is Christian teaching.   There is no pressure for children or adults to join the devotional times and staff have told me explicitly all families are welcome.
For the moment, family camp is only run at Forest Edge CYC on one long weekend a year.  There are a number of family camp options running over the summer holidays at their other sites (expect to see us there)
For more information on CYC family camps see their website.
&copy Copyright 2018
Danielle
, All rights Reserved. Written For:
Bubs on the Move