I love the summer school holidays in Melbourne.  The city is quieter as thousands flee town to visit family and enjoy vacations away.  For those of us remaining – this just makes it even easier to enjoy all the fabulous things that are on for families with kids (and there is plenty to do)  This years summer school holiday highlights include live entertainment, water play and museums that cater fantastically for kids:
Splashland
My kids loved Splashland last summer – this inflatable waterslide pop up will be located at the Caufield Racecourse 28th December – 24th of January.  My big tip for families visiting – make sure you buy adult tickets too – it is lots of fun to join in with the kids.
Santas Magical Kingdom
Melbourne's favourite Christmas family event is on at the Caufield Racecourse until December 23rd.  Rides, character interactions, craft and entertainment combine to make a memorable Christmas activity that my kids talk about all year long.
Ground Up at Scienceworks
We were fortunate enough to be at the opening of Ground Up – a new interactive play space for under fives that teaches them about STEM (science, technology, engineering and maths).  It is best not to get me started about how women are under represented in these fields or I  will go on and on.  What I loved about this exhibit is that my three year old very girly girl had a blast there, learnt that science is fun, and came home saying "I'm a scientist" which quite frankly was a reprieve from her usual statements about being a princess.  Win.  Ground Up is a permanent exhibition at Scienceworks but get in quick and be one of the first to check it out with your kids these summer school holidays.
Gumbuya Park reopened as Gumbuya World
Victoria's newest theme park, Gumbuya World is open just in time for the summer school holidays. Located in Melbourne's South-East, phase one unveiled the highly anticipated Oasis Springs water park, Wildlife Trail and the Oz Adventure and Outback Explorer worlds, with further phases to open throughout 2018 and beyond.  You can plan your day of summer fun online at www.gumbuya.com.au
Hands On:  We Make Carpets for Kids
Regular readers of this blog will know that I'm a huge fan of the NGV's special exhibits for kids.  Hands On:  We Make Carpets for Kids opens just in time for the summer school holidays.  Children are invited to arrange random shapes and turn the floor into a richly patterned surface; make dashes of colour with ropes to complete a new piece; and play with colour and shape using Velcro swatches. The participation of visitors over the duration of the exhibition will produce a visual treat of kaleidoscopic colour for all to enjoy.
Hands On: We Make Carpets for Kids will be on display as part of NGV Triennial which runs from 15 December 2017 – 15 April 2018 at NGV International. Entry is free. Further information is available from the NGV website:NGV.MELBOURNE.
Escape the Goal at the Old Melbourne Goal.
This immersive and educational activity is an exciting experience aimed at children aged 6 and over.
Participants will have the opportunity to become inmates and must explore the Gaol to discover all the necessary clues to create the perfect escape plan, without being discovered by the prison guards.
Each 'prisoner' will be given a notebook containing a number of riddles, which must be deciphered in order to receive directions to hidden clues.  Once the clues are discovered, prisoners must secretly hunt through the Gaol to uncover the answers to pull off a fool-proof escape plan.
Escape the Gaol is running from a limited time only – Tuesday 26 December to Friday January 2018.
Tickets to the Old Melbourne Gaol are highly affordable, with tickets for one adult and two children for only $48.00, making the Gaol an attractive option for a fun, family day out during the school holidays.
Deadly 60 Live on Stage Tour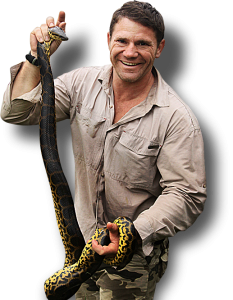 Fans of Steve Backshall's tv show Deadly 60 (shown on ABC ME)  will love his stage tour.  It's not the first time he has visited Australia – the show has toured twice before and audiences loved them.   For the first time though the show will feature live on stage some of Australia's most dangerous animals.  The previous tours have sold out quickly so get in early for your tickets.  The Melbourne shows are on at  the Arts Centre, Hamer Hall on Thursday 25th January Bookings can be made online at www.artscentremelbourne.com.au or calling 1300 182 183.
Operation Ouch! Live on Stage!
As a doctor and a mum I have a soft spot for this particular summer school holiday activity.  Operation Ouch! is a favourite ABC ME show in our house.  TV's favourite identical twins Dr Chris and Dr Xand have been hard at work – creating more incredible medical stunts and even crazier experiments to follow up their previous sold out tour.   This show is packed with fascinating facts about biology and the awesome things your body can do.  They are visiting Melbourne with a show at The Plenary on Tuesday the 23rd of January (rural readers – the tour also visits Geelong and Bendigo).  Purchase tickets to the Operation Ouch! Live on Stage! tour online here.
City CYC
Drop the kids off for a day of fun in the city while parents enjoy a bit of time off.
School holidays are great but they can be hard work for parents too.  City CYC is a camp in Melbourne's CBD that runs week long programs for school camps during term time.  During school holidays they run day camp programs for primary aged kids in grades 3-6.   These summer school holidays they are running two day camps from 8:30 to 5:00 on Thursday January 18th and Monday January 22nd.  You may choose to enrol your kids for only one or both days of the day camp.  At $25 for a full day of camp City CYC is budget friendly.   Each day will involve amazing games, brilliant activities, and a super special afternoon excursion in the Melbourne CBD. Then, after pick-up, mums, dads, and carers are all invited to come and join their kids and the camp leaders for an amazing rooftop bbq with CBD views.  CYC is a Christian organisation so their is some religious content.  They do however welcome kids from all religious and non- religious backgrounds.  I'm including City CYCs day camps in this school holiday round ups because my own 9 year old LOVES going there so much and lets face it – we all need a break from our kids sometimes.  More information is available on the
City CYC website
.
Giveaway
I have one family pass (2 adults and 2 children) valued at $65 to give away.  To enter tell me you kid's best escape story in 25 words or less as a comment.  Entries Close January 6th at 8pm Melbourne time. The prize is not transferable for cash.  Entry is open to residents of Australia aged over 18.
Disclaimer:  We receive invitations to experience Melbourne attractions and events.  If I don't like an event/attraction they don't feature on the site.
&copy Copyright 2017
Danielle
, All rights Reserved. Written For:
Bubs on the Move