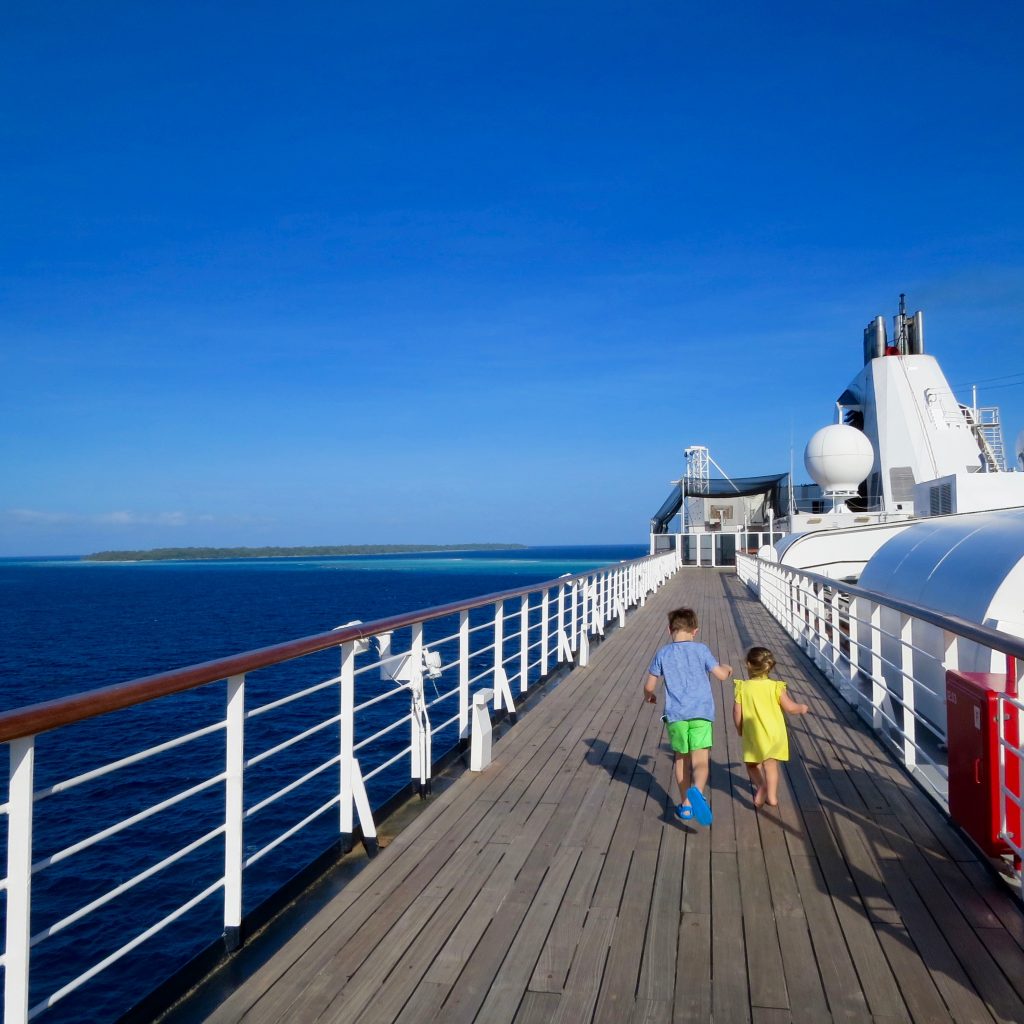 We saw whales on our first morning aboard.  Dining on a continental breakfast of croissants while enjoying the sunshine (goodbye Melbourne's winter!) we spotted humpback whales surfacing and spouting port side.  It was an auspicious start to a family trip with a difference – visiting Australia's northern neighbour Papua New Guinea with our three children abroad P and O's Pacific Aria.  I loved watching people's faces when I told them I was taking the kids to Papua New Guinea.  The looked confused – wasn't it dangerous, and why on earth go there anyway?  Cruising to PNG turned out to be the perfect way to introduce them to this beautiful country.
The impressive Pacific Aria departed Brisbane in July.  As a family of five we need two cabins and I was content to be housed with my two youngest kids in a family four berth cabin with a porthole.  The room was smaller than our other double interior cabin however having the porthole meant I felt like I'd drawn the long straw as we woke each morning and would peep out to see how the seas were faring..
Onboard
Adventure and recreation
I'm someone that loves traveling with kids but am honest when I tell people it isn't often isn't a holiday.  It turns out that cruising provides a great match for our family – the ability to explore new places as well as providing me some long overdue space from my wild kids.  I was initially worried about my wild boys being too contained on a vessel during sea days however P and Os adventure at sea program – The Edge was a wonderful way for the boys to expend their energy – all with the most amazing view.  The boys loved the ropes course, flying fox and climbing.  You can read a little more about their Edge experiences here.  The swimming pool and on deck jacuzzis were also used by us on a daily basis.  We did find the family pool a little small – there is a glorious kid free pool though that particularly when we were in the tropics was heavenly.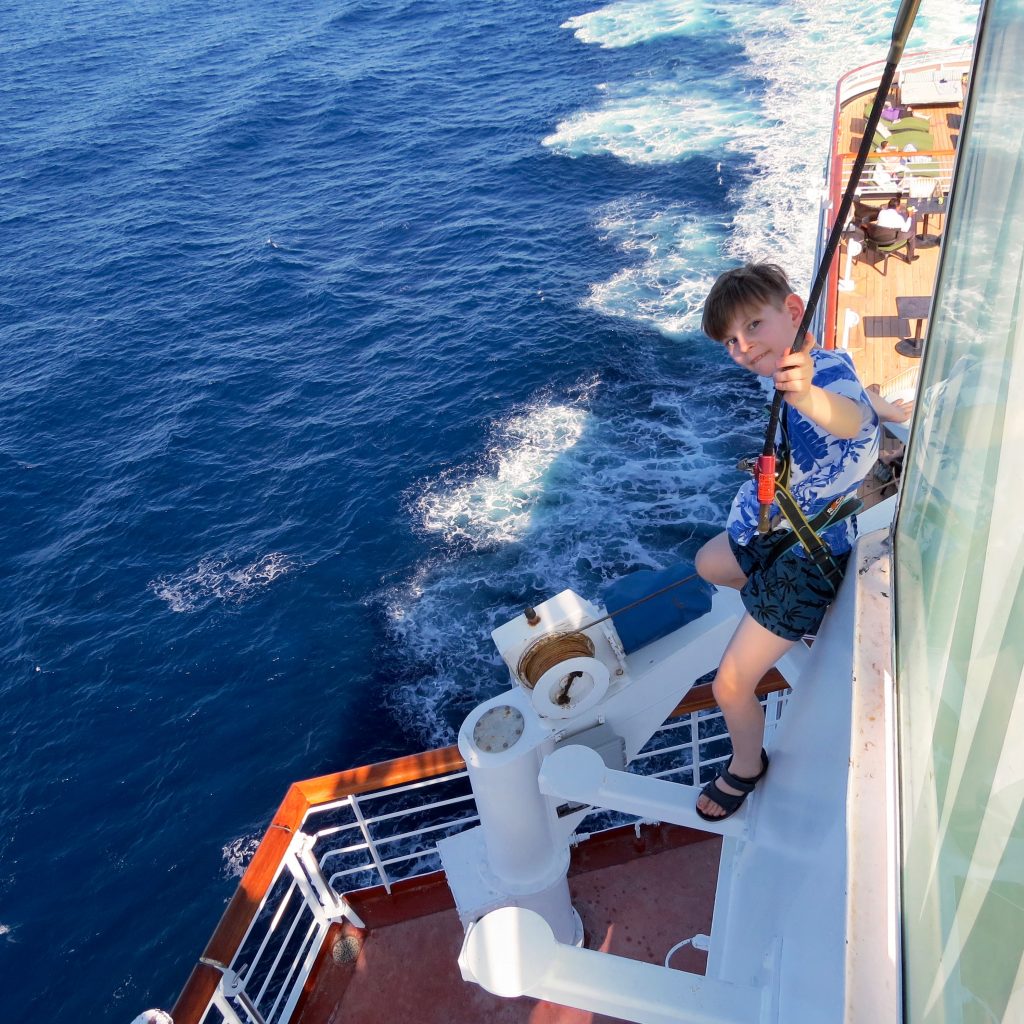 Kids Club
I hadn't expected the kids to be as mad for the kids club as they were.  All three literally nagged to be dropped off there.  The kids club offered a winning combination of enthusiastic staff, personalised interactions (the staff knew my kid's names by day 2) games and lots of prizes.  My younger kids were enrolled in Turtle Cove for children aged up to 7 and my eldest aged 8 was enrolled in the Shark Shack.  With my permission my 8 year old was allowed to sign himself in and out of Shark Shack which fostered his independence adding to his enthusiasm.  The evening kids club sessions ran from 5.30 pm till 10pm and meant that I could actually enjoy dinner without the kids every evening.  The power of this to improve parent wellbeing shouldn't be underestimated and if my kids hadn't been so keen to attend I would have felt guilty dining without them each night.  In addition to kids club activities the kids club staff ran family friendly events and parties that had parents and kids joining in.  Children need to be toilet trained to attend the kids clubs on P and O cruises
Shows and entertainment
There was nightly entertainment – at 7pm and 9 pm.  While this is geared towards adults and included a magic show, contemporary dance performance and a comedian the early time slot meant the kids were able to enjoy some of them.
Dining
The cost of cruising is all inclusive of meals.  Kid's dinner was served at 5pm (standard chicken nuggets and spa getting bolognaise type food) and after the children ran off to the kids club.    Casual food court like dining was available in The Pantry offering varied international cuisine.  Sans kids we enjoyed the languorous a la carte options at the Asian fusion Dragon Lady and Waterfront restaurants.  Although these were enjoyable experiences the service staff did seem to be stretched in both.  Other dining options at extra cost were available such as Luke Mangan's Salt Grill ($29-$49) and The Chefs Table ($95).  Call us stingy perhaps but it felt upscale enough for us to dine in the evening without children so we didn't try these out.
Exploring PNG
In total we enjoyed four days in port exploring PNG.  The family experienced a tradition cooking class together in Alotau which was held at the immaculate Masurina Lodge. This was the perfect shore excursion for our family as it incorporated a hands on cultural experience llearning about traditional PNG cooking including shelling and shredding coconuts.  The feast we contributed to as it turns out, was delicious.  Bonus points for this excursion as it allowed a few good hours of water play enjoying Masurina Lodge's waterslide.
Our shore tour to Rabaul provided a different perspective of PNG with a visit to Mount Tavurvur an active volcano.  Rabaul has an interesting history of Japanese occupation during World War II and for history buffs there was plenty to learn.
Our shore trip to Kiriwina Island was enlightening.  This was the only place in PNG where we were actively hounded by locals wanting money from us and pressuring us to ride in their canoes.  To be honest, it was confronting and consequently we chose to remain on the island only a short time.  It did lead to many important conversations with the children however about our own state of privilege, and the realities of poverty for children in other locations.
The Conflict Island where the highlight of our trip.  These uninhabited islands and the ocean around are an untouched marine wonderland and the pristine aqua waters in which we snorkelled were an experience we will remember forever.  My older boys learnt to snorkel there and even my three year old was able to experience the underwater ecosystem by riding in a glass bottom boat.
Tips for families traveling with P and O to PNG
Visit a doctor at least 6 weeks before traveling for vaccination and malaria prevention advice.
Children that aren't toilet trained are unable to use the pool or kids club on P and O cruises – if your kids are in this category you may want to wait a little while before booking your cruise.
Consider taking your own snorkelling gear with you – the cost of snorkel gear hire on board is pricey.
Make sure you pack all potential  pharmaceutical needs e.g. children paracetamol and sea-sickness tablets as the price of these on board is prohibitive.
If you want interconnecting rooms book very early – we booked five months in advance and were not able to access these.
&copy Copyright 2017
Danielle
, All rights Reserved. Written For:
Bubs on the Move