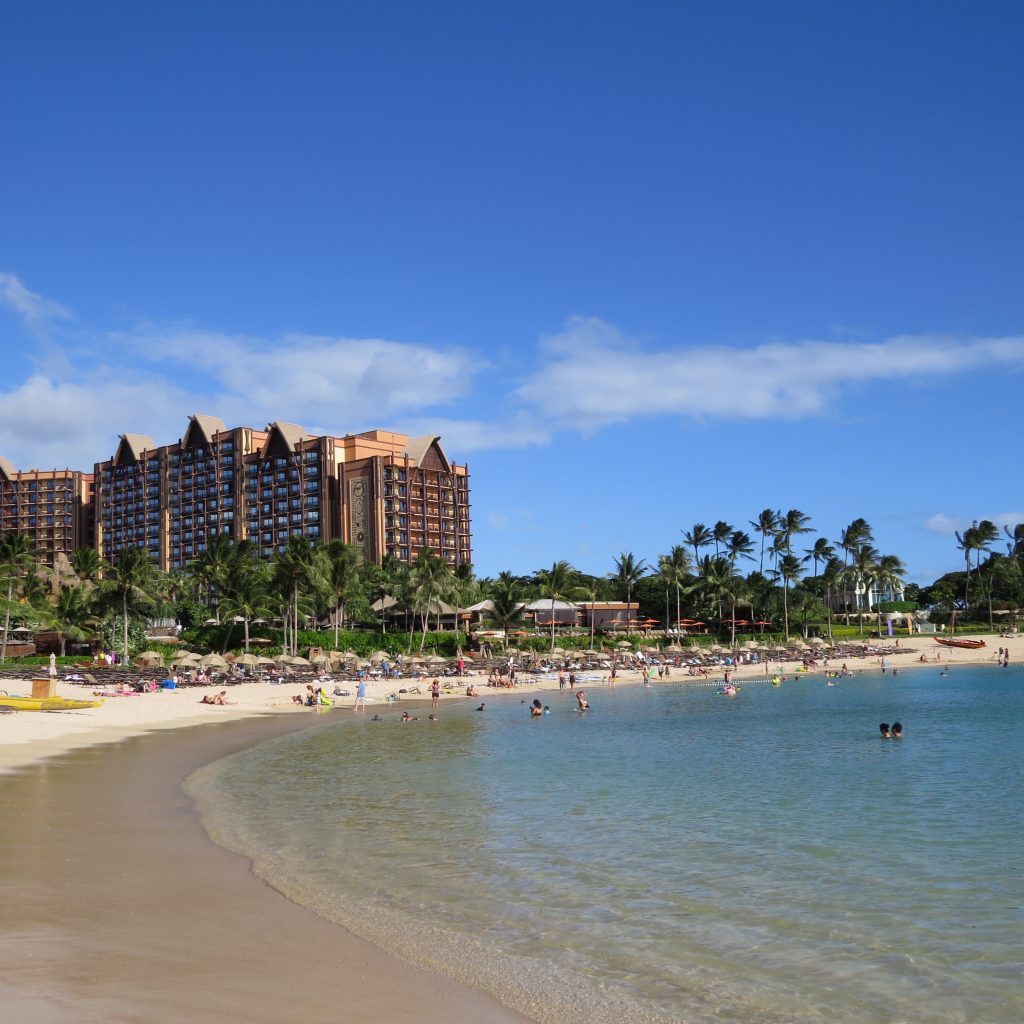 The Disney resort in Hawaii has been on our to do list for years – I've been scouring their website since the boys were little anticipating a trip there. This past week the stars aligned – offering a conference-vacation combo that fulfilled my professional and family needs perfectly.   The feedback we had from other families prior to our trip was outstanding – every one loved Aulani.  Consequently were were surprised that we didn't love Aulani ourselves.  There was much to be impressed with – state of the art family friendly facilities for one, but we didn't discover the ideal family resort we expected.  Given our own ambivalence about our time there I thought it worth breaking down explicitly- the things that Disney Aulani does well (in fact amazingly so) and the aspects of our stay that fell short of our expectations.
The good.
Accommodation
The rooms at Aulani are great – our one bedroom family villa (actually a two room suite in a tower) was great sleeping our family of five comfortably (with the children on a pull out sofa and small fold out single.  The working kitchen didn't do lip service – providing all we needed to self cater (which was fortunate as the dining options at Disney Aulani Resort are pricey).
The aspect of Disney Aulani that we unanimously appreciated were the water facilities located in "the valley" between the Aulani towers and the beach.  An extensive lazy river, two waterslides, zero entry pools suitable for all ages and with accessible entry points for people with disabilities the facilities were world class.
Rainbow Reef
For an extra cost visitors may purchase tickets to Rainbow Reef, a man made lagoon stocked with tropical fish.  Rainbow Reef is a safe, life guard supervised space for children to learn how to snorkel and my kids loved it.  Bonus points for the window that allowed me to watch the kids snorkel.
The Beach
Aulani is located on an idyllic man made sheltered beach that is perfect for young children.  There were zero waves when we were there and the children frolicked with silver fish in the balmy ocean.
The Character Breakfast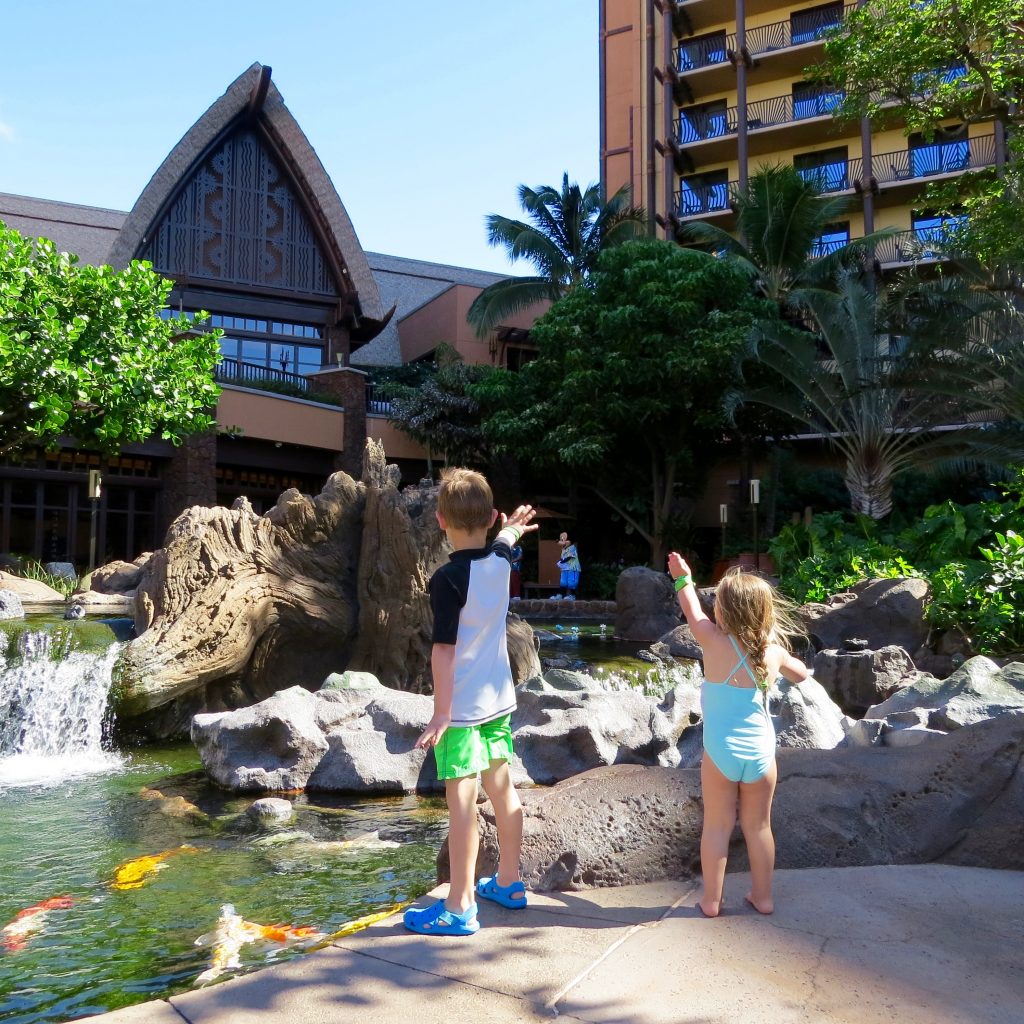 If visiting Disney Aulani Resort I'd suggest booking a character breakfast.  While the number of Disney characters were less than at other Disney Resorts the breakfast entertainment was engaging with the kids interacting in performances and dance.  The food was about the standard of a nice hotel buffet.  I'm sure my own kids will have special memories of the character interactions and fun of this breakfast.
Pool Parties
A couple of times a week the entertainment staff run pool parties hosted by Mickey and Minney Mouse and Goofy.  The pool parties are energetic, with interactive games, singing and dancing and were unlike anything we've experienced at other resorts.
The premium kids experiences
I recommend one of the premium kids experiences for children aged less than eight.  My youngest two loved "Fish are Friends" which involved a marine biology lesson, making fish food and feeding the fish in the Rainbow Reef.
The Bad
The lines
While I anticipate long lines if visiting Disneyland or Disneyworld I didn't anticipate long lines at a family resort.  There are long lines to get your pass to use the pool each day, a long wait to be seated at the character breakfast, long lines to get into the kids club, and long lines to sign up for any scheduled activity.  Much of our time was spent at the resort lining up.
The frenetic pace
The pace at the Disney Aulani Resort is mad.  The lazy river is anything but – expect to be pushed and tumbled by energetic adults and children.  The jacuzzis are filled to overflowing with children.  There are people, noise and stimulation everywhere – finding a quiet place was darnn near impossible.  For families that have sensory kids (as we do) this proved particularly challenging.
The kids club
I really expected Disney to ace the kids club.  Unfortunately the kids club was the most disappointing aspect of Aulani.  Aunties Beach House is free of charge for guests aged 3 to 12.  There are scheduled activities at certain times of the day however sign up for these was at 730 am.  I soon discovered that in order to gain a place for your child at any of the scheduled activity involved lining up (again!) at least an hour and a half before this.  Do I want to be lining up at 6 am to gain my child a place in a kids club activity, particularly when jet-lagged – definitely not.  If you miss out on a scheduled activity you are able to leave your children in Aunties Beach House for free play.  Unfortunately free play equivocated with watching movies and playing video games.  My nine year old who loves kids clubs usually said "video games aren't for vacations Mum"  As my husband and I were relying on the kids club to attend a conference we had to put our very unhappy child into the kids club anyway.
Most scheduled activities require you to book in early morning on the day of the activity.  As with the kids club I found that in order to access the scheduled activities (such as mini-canoe building) you were required to line up for at least an hour before the books opened.  A few times I did line up early and still missed out on a place for my kids in the activity because there always seems to be other parents that will line up even earlier.
I realise I may cop some flack for this article – people seem so passionate about Disney Aulani Resort being the best family resort ever.  Ultimately it comes down perhaps to priorities.  A kids club that has easily accessible structured activities is a must for us otherwise my children aren't happy and I don't get any space to myself on vacation.  Similarly we need some quiet spaces – places (outside of our own room) which provide a less stimulating environment.
Have you been to Disney Aulani Resort?  What did you think about it?
&copy Copyright 2017
Danielle
, All rights Reserved. Written For:
Bubs on the Move