Think Adelaide is just a romantic foodie getaway for loved up Millenials?  Think again.   A recent trip to Adelaide with our three kids showed us that there is plenty to keep the kids entertained in South Australia's capital.
Key places of interest
(1) Haigh's Chocolates
Tours of Haigh's Chocolate factory are free (although they must be booked)  As well as an educational presentation on the magic of chocolate creation there were plenty of free tastings and it didn't take much to entice us to purchase more in the delectable shop on site.
(2)  Adelaide's Botanic Gardens.
It is hard to go wrong when visiting any of the Botanic Gardens in Australia's capital cities and Adelaide is no exception.  As well as carefully manicured gardens there is a strong design element incorporating sculpture within the gardens.  Highlights include the massive greenhouse rainforest.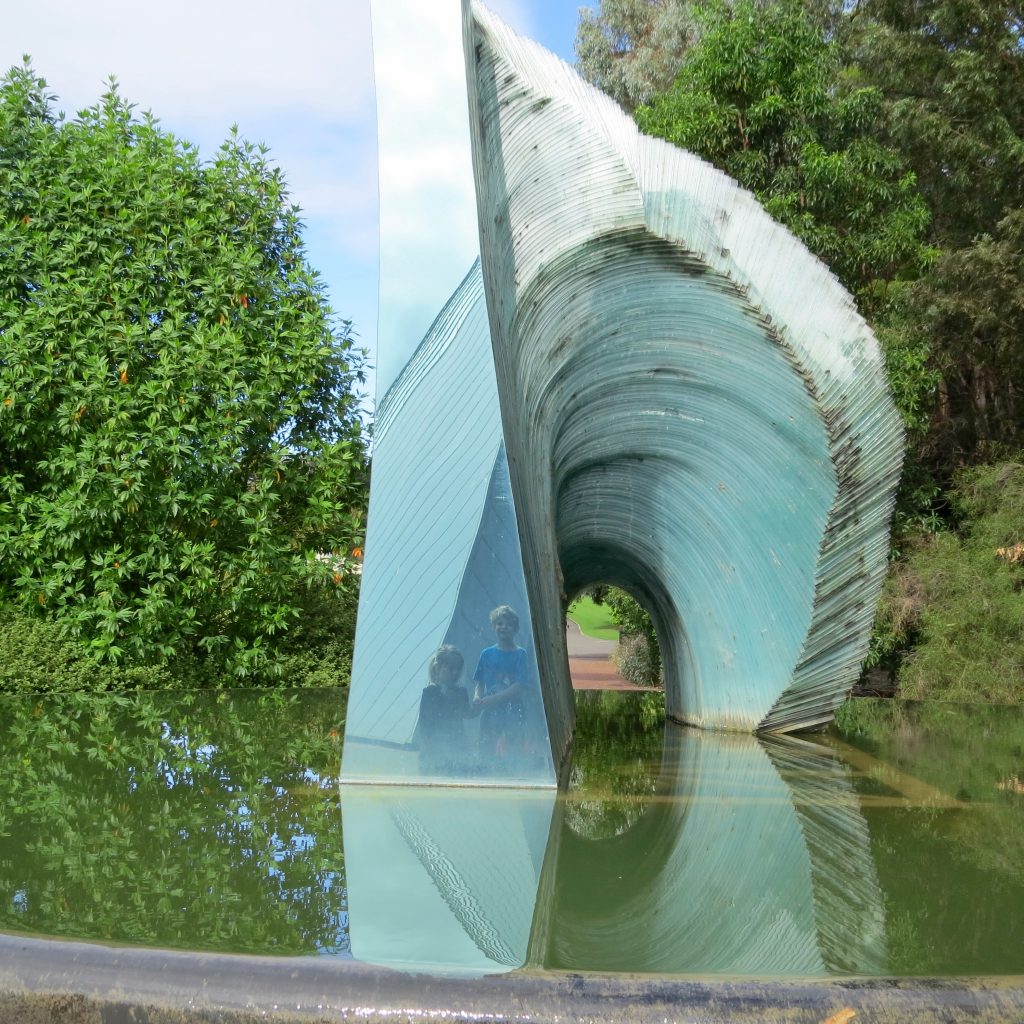 (3)  The Old Adelaide Gaol.
Some attractions are poignant and there is a real sadness to the stories that we heard at the Old Adelaide Goal.  We were given a lock puzzle to figure out as we explored the Gaol and heard stories of inmates past.  Visiting the Old Adelaide Goal invites questions regarding challenging topics such as capital punishment so parents visiting with their kids will need to be ready to answer them.
(4)  The Beach House
The Beach House at Glenelg is not a cheap day out for families however during bad weather it provides an undercover space that kids will love.  This includes waterslides, bumper boats (not undercover) arcade games, mini-golf and an indoor playground.  Do check out their website prior to going as they offer a variety of packages which were quite confusing to get our minds around.
(5)  The South Australia Museum
Although it is smaller than it's cousins in Melbourne and Sydney the Adelaide Museum is not to be baulked at as a venue that encourages kids to learn and engage with the natural world and history.    Most exhibits follow a fairly traditional museum format (expect plenty of preserved specimens).
Around Adelaide
The Adelaide Hills and the township of Handorf is an easy half day trip – think fudge shops, European inspired restaurants and foodie adventures.
Kangaroo Island
Kangaroo Island is a holiday destination of it's own however if time is limited you can do a day trip from Adelaide.  The wild-life on Kangaroo Island needs to be seen to be believed and includes seals.
The Barossa Valley
If you can swing a babysitter the Barossa makes for a charming afternoon of grape grazing.  Alternatively, take the children (and brave the tourists) at Maggie Beers farm – a family friendly foodie stop with aviaries and Maggie's famous ice-cream for sale.
Dining
Jamie's Italian is a great option for families without picky eaters.  Their children's meals are healthy and tasty.  Kids are warmly welcome.
Stay
We stayed at the Oaks Embassy by Oaks Australia – self contained accommodation in the Adelaide CBD.  The swimming pool makes this a great base for families visiting Adelaide.
Disclaimer:  There are affiliate links in this article.
&copy Copyright 2017
Danielle
, All rights Reserved. Written For:
Bubs on the Move